4 days gone by.....
where has the time gone? 4 days already, i can't believe it! anyway, here are a few pictures i've been meaning to get up:
a giant rose i made out of purple mohair for my friend sherry-it matches a scarf i did for her a while back.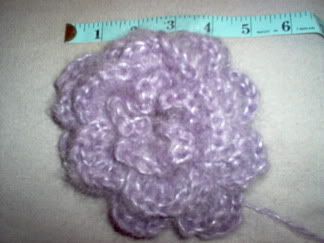 yes, you are seeing that right - that bad boy is almost 6inches across and about 2 1/2 inches high! i can't wait to get it to her, she will love it!!!
here's the 1st square done for Christie (Jordan's mom). i'm rather disappointed in my plain'ol granny, but.... well, here's the story. my oldest 2 had to be a the swimming pool where i had to wait for 45 minutes... so i took along my project, but left the pattern at home. not wanting to waste the time, and this was the only yarn i brought into the bldg with me... i did a granny out of my head.
this is the yarn i originally bought for Christie's blankie -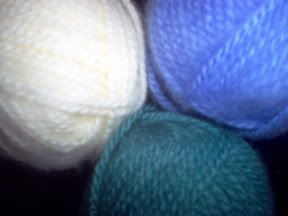 it is lionbrand jiffy - when it was decided that we would all use caron or rh, ww.... this needed a new project... so i actually decided to do the right thing and return it for the $7 refund. well, i put it in a bag and hung it from the doorknob (so as not to forget it)... my youngest found it.... so now i've got to come up with a project for it - oh well.
well, i have much more to list and talk about, but hubby needs to do homework - til tomorrow