PRIZES!
my wonderful husband was on a business trip to jacksonville florida - found the local yarn shop : A Stitch In Time, and bought me a prize!!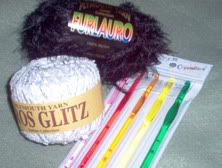 1 package of crystalites hooks G-K
1 ball of Plymouth Yarn in Eros Glitz - it is white satiny-ish with a tiny strand of silver zig zagging through it - it's a railroad yarn
1 ball of Plymouth Yarn in Furlauro in black. it looks like a cross between fun fur and eyelash but is SO absolutely soft and luscious
now, what shall i make???
i also have got to tell you all about this fabulous yarn i got in the
yarn swap
at
Crochetville
from Nashville Crocheter =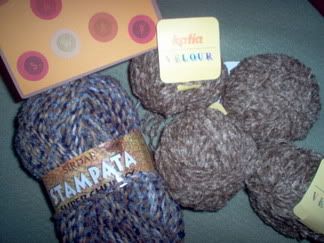 this yarn is so completely fantastic, i haven't the right words, except that this stuff is all mine. i'm going to make something for me out of it - this yarn makes me happy :)
it is 4 balls of Katia Velour in a beautiful multi-taupeyish browns
and 1 skein of Sirdar Stampata Super Chunky in a mulit brown with a twist of multi blue, boucle type strand - I have searched the country over for this and finally found someone who has it and am going to jump off my yarn diet wagon and buy 10 more skeins of this glorious yarn!