updating - kinda
thanks ladies - nice to know you all you all drop in :)
i just might bug you all about the store thing occasionally. my hubby is getting some paperwork from the 'Downtown Commission' - they offer grants to newcomers in the area and such.... i've still got some research to do on the probable/possible customers. doing a business plan and all that jazz
other news: my son is home YIPPEE!!!
all is back to normal - the hierarchy is having some serious adjustment problems...2nd born sure is upset at the power loss.
school starts next monday. i'm so incredibly sad. i absolutely love having all my kiddos home. but i guess the change will be good for the younger ones so we can concentrate more on their learning.
on the crochet front:
i have finished my
bag along bag
- although it still needs top/bottom boning to keep it from being floppy. i finally bought another skein for the red throw. a few more of the
squares
have been stitched together. i started some legwarmers for my daughter but have decided they are not full enough- gonna have to frog and start again... what else... started a purse for my friend sherry for Christmas. my friend alene's shawl is complete and will be going in the mail today. i'm so excited for her to receive it. it is a surprise. she does so much for others, i hope she enjoys it.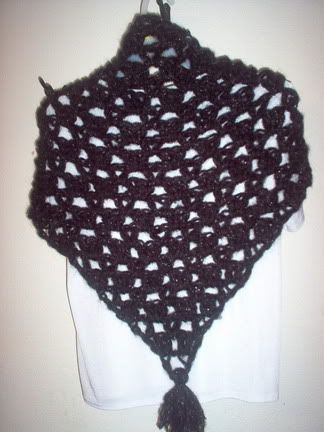 i will be joining in with a few other ladies on
crochetville
to make a blanket for
Jordan
's mom (she is the young girl with cancer that we have made things for) what else.... i've been working on the rainbow blankie. i made a huge rose for my friend sherry to match the purple mohair scarf.....
that's all i can think of right now. i will update more in a bit... i need to update my progress bars.