blog gone wild
holy cow! there wer 14 posts of my last entry - not sure ??? got them all (but one) deleted... took long enough.
man oh man... i havent' been very true to my "prioritizing"
i have to get these blankets made for Christmas.... i need to quit doing 'side projects
the shawl i have been making for my friend, Arlene is coming along very quick....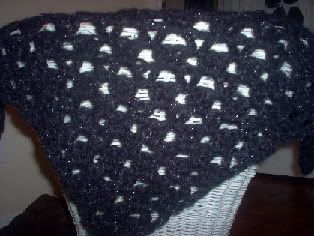 although, Holly from crochetville posted an awesome pattern, and now i'm thinking of frogging the shawl..... not sure? worth it???
i just don't know
i also decided to join the "BagAlong" at crochetville - because
need
another project -sheesh
well, in fairness to myself, i did think this pattern would go a LOT quicker than it has... ick, so another WIP
i really like it though... except the 2 rows of slst. i will definately change that to back loop the next time i make this ...
i miss my boy. i'm very ready for him to come home from SanAntonio - tomorrow!!
okay, housework calls.